CRAFT PACK
Let your creativity go ...
to school, to Grandma's, in the car ...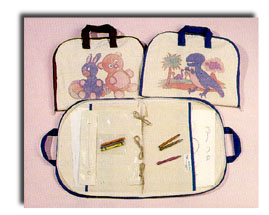 Great For Carrying art and school supplies, card collections, more!
Kit Includes:

Environmentally Friendly Canvas Pack
Fabric Crayons
8" by 11" Plastic Zipper Pouch
Two Patterns (as shown)
Two Large Interior Pockets
Drawing Paper
Complete Instructions



Perfect For:

Iron-on Transfers
Beads
Painting
Stenciling
Applique


Notice: Adult Supervision Recommended for Ironing Process
Instructions for Decorating Your Project Pack
Draw design on white paper or color design which is included. Your design will be transferred in reverse. If using letters or numbers, print on separate sheet, turn sheet over, copy reversed image onto your drawing. Press hard when coloring. For best results, outline objects in black or contrasting color. Brush away crayon specks. The front and back of the pack will accommodate a full sized 81/2''x11'' drawing.


Make an ironing pad by placing white paper over layers of newspaper. Place this inside the pocket of the pack.


Lay the design face down on the outside of the pack. Top with white paper.


Use cotton setting. Keep firm, steady pressure as you iron over entire design. Do not move iron too much or image may blur. Press until image is slightly visible through back of paper.


Remove design paper carefully.


YOUR CRAFT PACK IS ALSO GREAT FOR USING
IRON-ON TRANSFERS, BEADS, APPLIQUE, STENCIL,
PAINTS AND MUCH MORE! USE YOUR IMAGINATION!
Other suggestions for decorating your pack:

Use a page from Your favorite coloring book for your design.
Trace a photograph or drawing from a magazine or book.
Use fabric paints or markers to create or enhance your design.

ONCE YOU'VE DECORATED YOUR PACK,
USE THE FABRIC CRAYONS AND REPEAT
THE PROCESS TO DECORATE YOUR CLOTHES!
As with any canvas product, some shrinkage will result form washing.
Scotchguard treatment recommended to prevent soiling.

Project Courtesy of Windsor Wood
---

Return to the National Craft Month Projects Page

Return to the National Craft Month Home Page