PERK UP AN ORDINARY BLUE JEAN VEST AND SHIRT
WITH THESE FISH (AND STARFISH)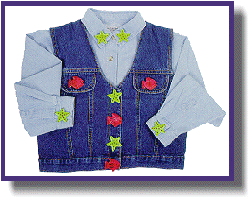 "ONE FISH,


TWO FISH,


PINK FISH,


GREEN (STAR)FISH?" TRY THIS ON FOR FUN...LET OUR NIGHTGLOW PROMAT SEA LIFE PERK UP AN ORDINARY BLUE JEAN VEST AND SHIRT. THESE FISH (AND STARFISH) ALSO GLOW IN THE DARK!

Materials You Need

1 block Nightglow Pink #2702 ProMat
1 block Nightglow Green #2701 ProMat
1 Wilton Bite-size Fish shaped cookie cutter
1 Wilton Bite-size Star shaped cookie cutter
Roller or Brayer
Sculpey Glaze #SG/33 Matte or Glossy
Evanscraft Crafts and cross Stitch Pens in colors of your choice
10 Button covers (optional)

Instructions

With your hands, knead and warm 1/2 block of Nightglow Pink ProMat and then, 1/2 block of Nightglow Green ProMat until they are smooth and pliable.

Using a roller or brayer, roll each color into 1/8" sheets of clay.

Using your cutters, cut out 4 pink fish shapes and 6 green starfish shapes.
Note: These numbers may vary with your garments. Place them on a cookie sheet and bake in a 275 degree, preheated oven for 30 minutes.

Cool.

Apply a light coat of Matte or Glossy Sculpey Glaze to each fish and starfish.

Let dry.

Using your Evanscraft pens, detail fish and starfish with your designs or use ours as shown.

For buttons: using a fine hand drill, make button holes in fish and starfish, then arrange them on and stitch them to the jacket.

For button covers: glue them to the button cover findings using E-6000 of Goop Brand glue. Arrange and stitch small shirt buttons to the garment.

Attach button covers to the sewn on buttons.

Washing instructions: Hand wash and air dry. Do not dry clean.

Project Courtesy of
POLYFORM PRODUCTS CO. * 1901 ESTES * ELK GROVE VILLAGE, ILLINOIS 60007 * (708) 427-0020

---

Return to the National Craft Month Projects Page

Return to the National Craft Month Home Page